Categories:
Other Brands
Eniko Mihalik is a vision of pure elegance on the September 2017 cover of ELLE Serbia. Photographed by Greg Swales, the blonde beauty wears a windowpane print shirt and grey skirt from Monse. In the accompanying spread, Eniko wears sophisticated styles from the fall collections. Stylist Arnold Milfort dresses the Hungarian beauty in fashion from Dolce & Gabbana, 3.1 Phillip Lim, Michael Kors and more.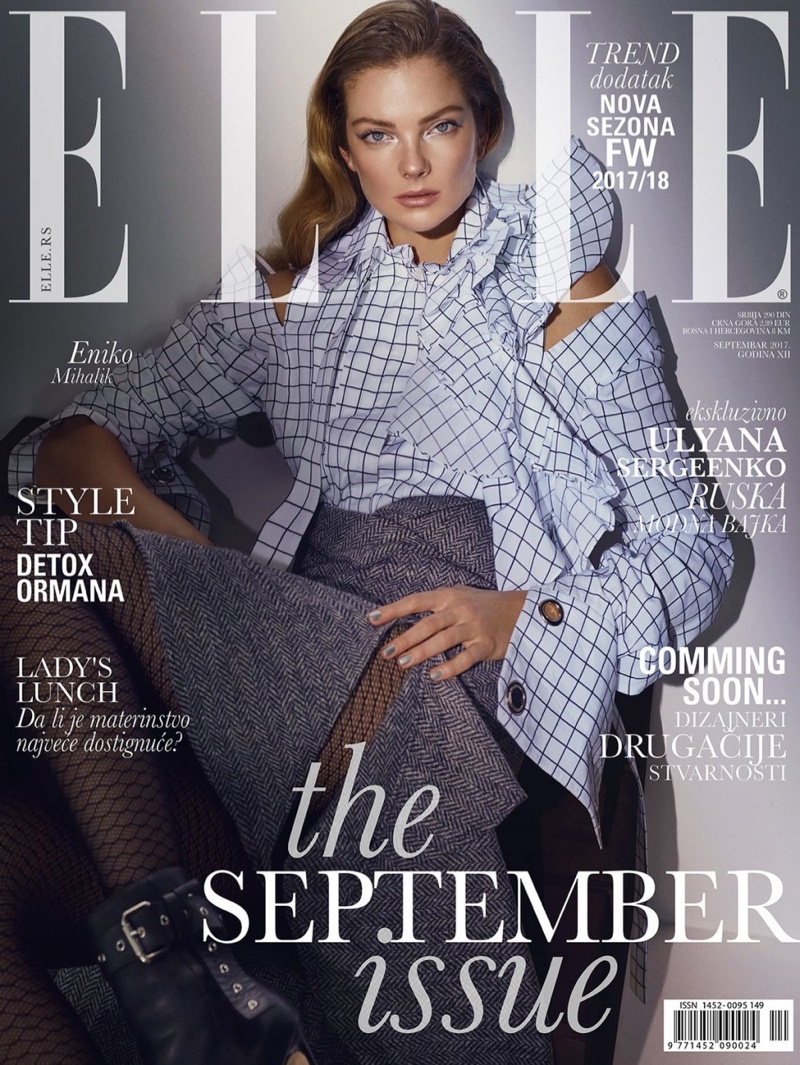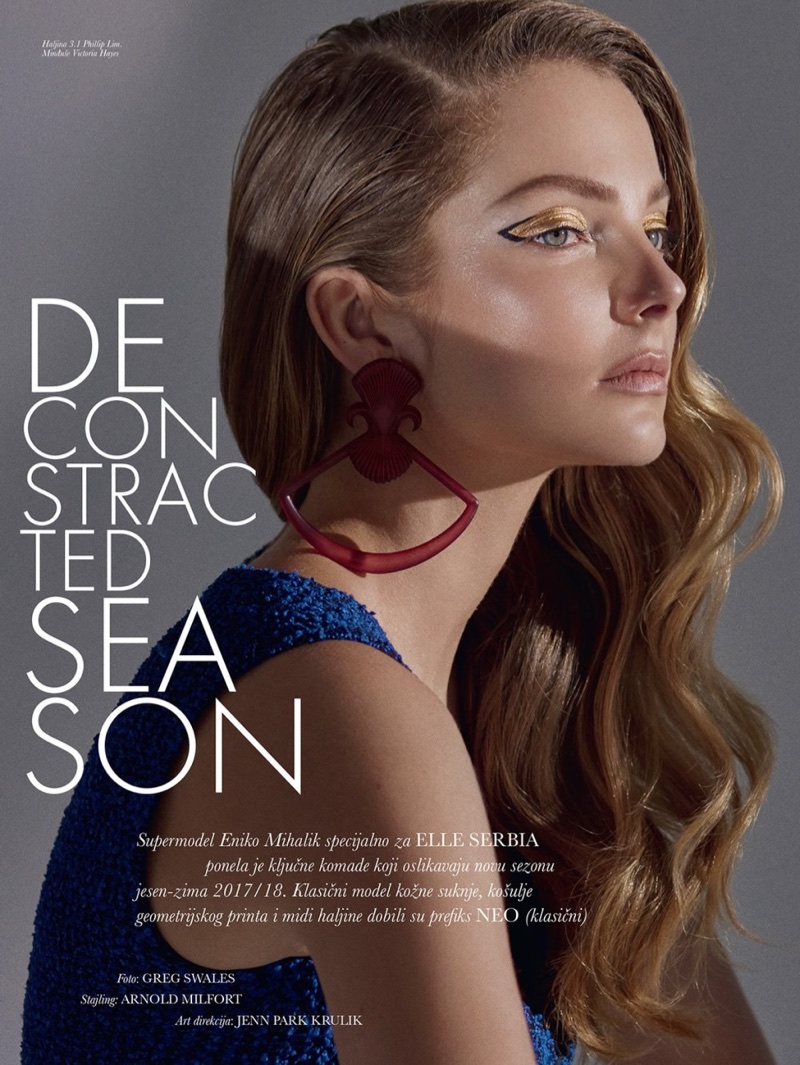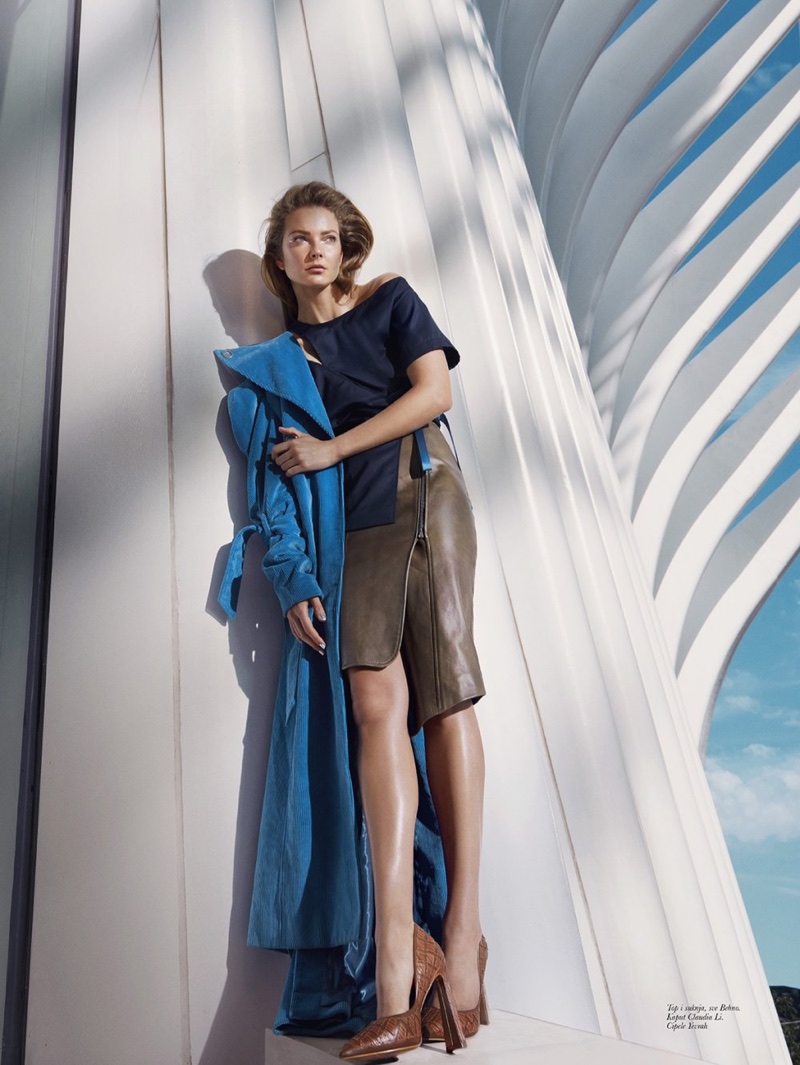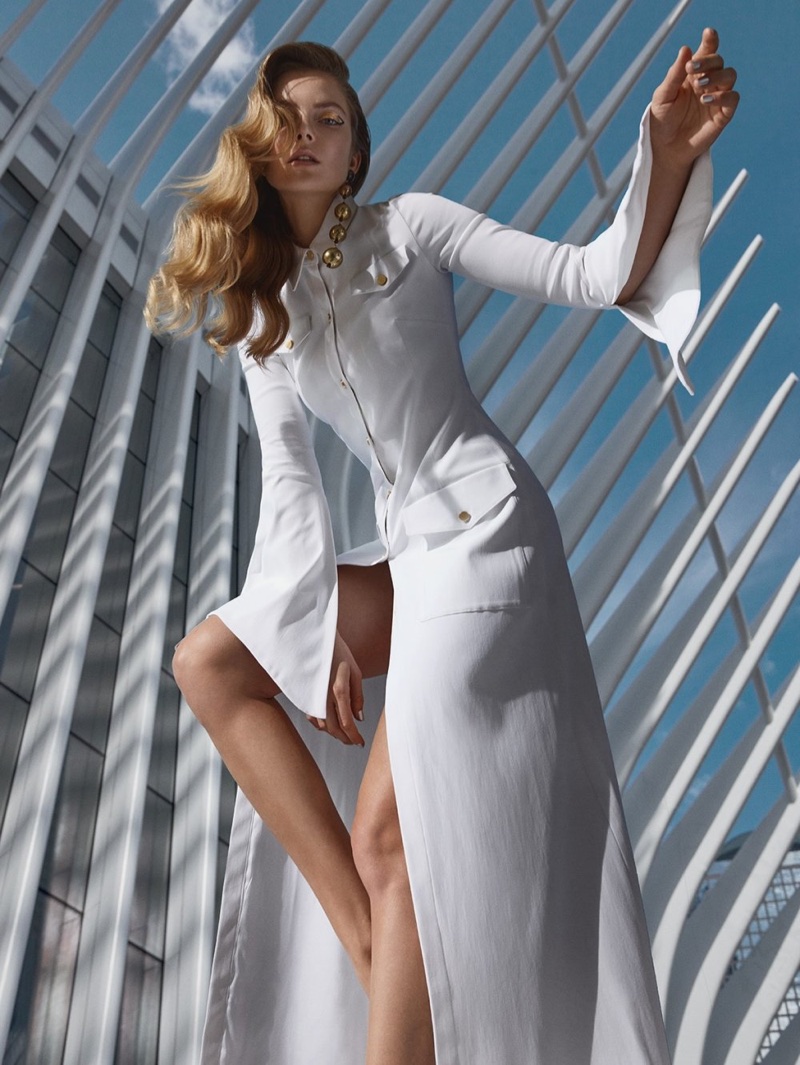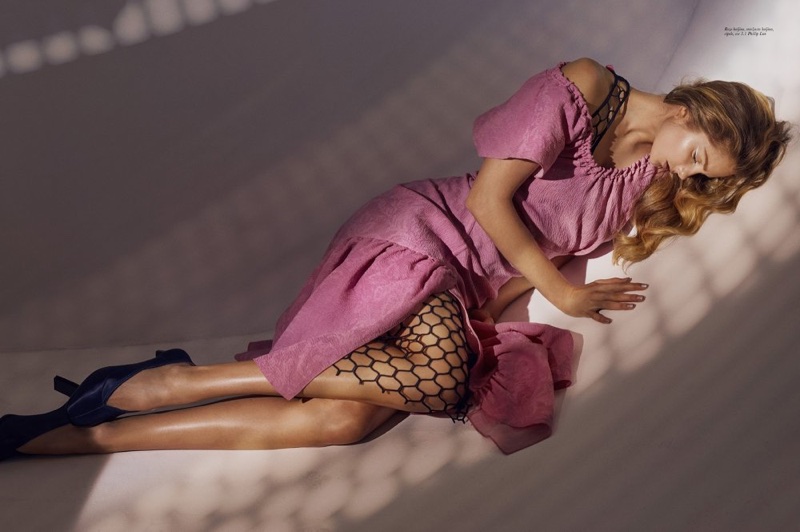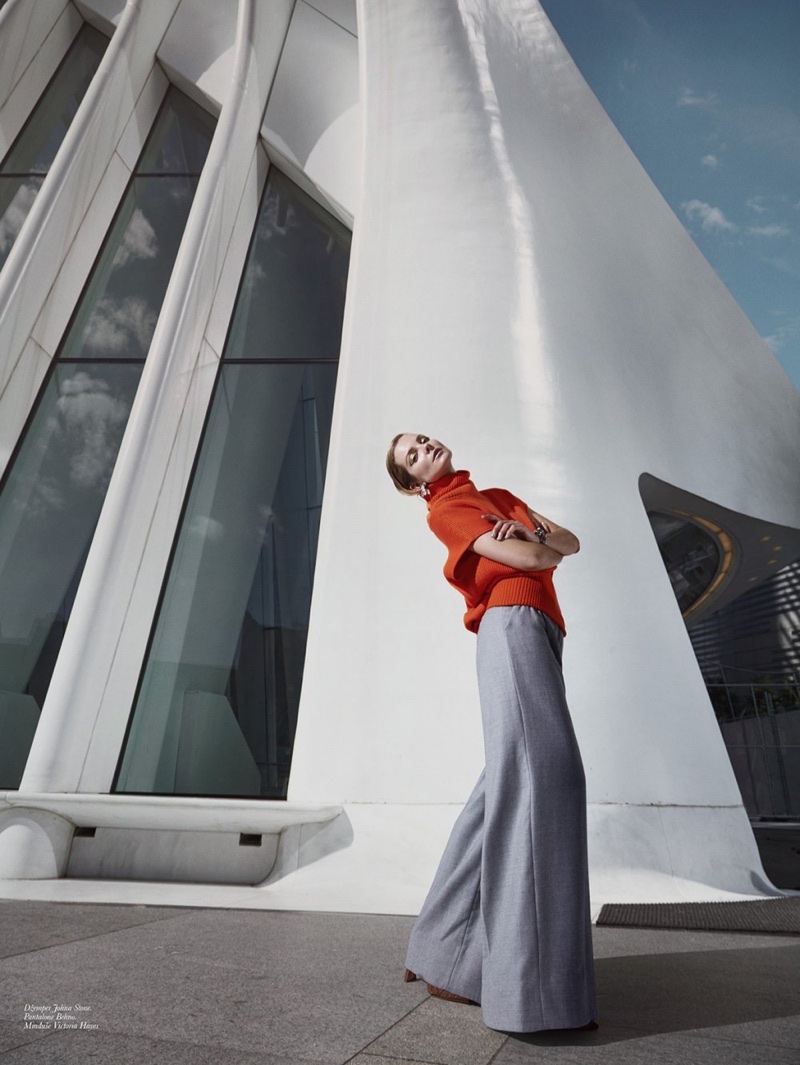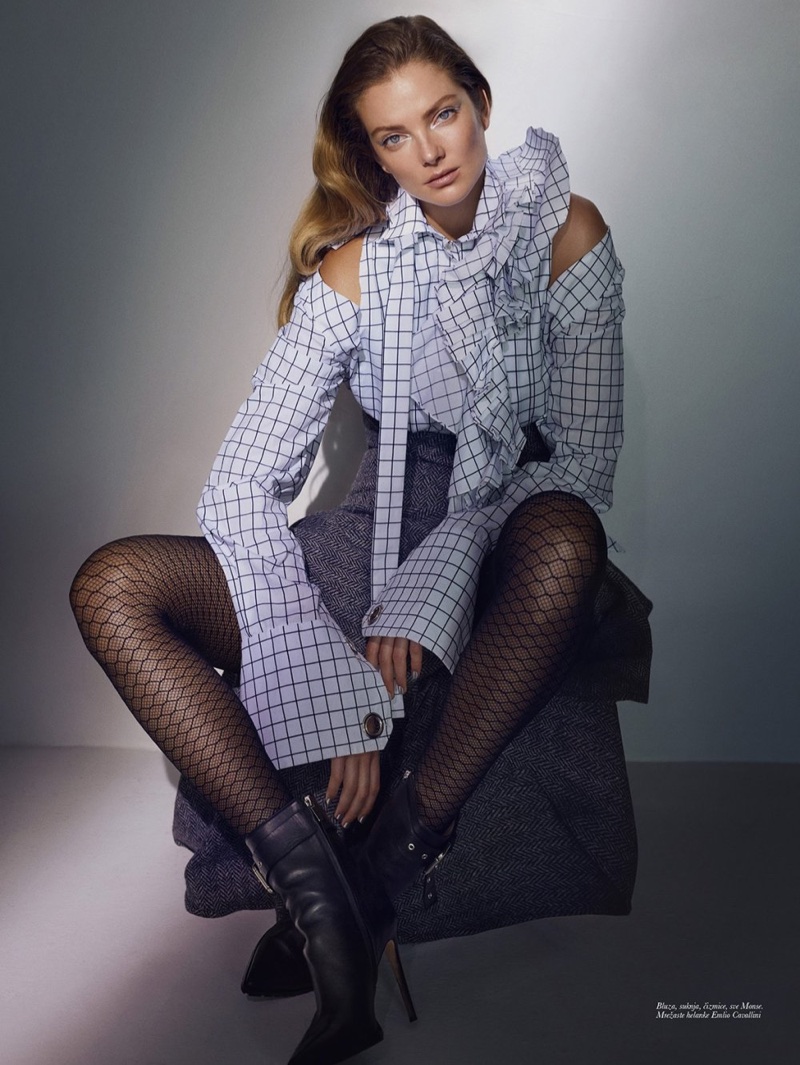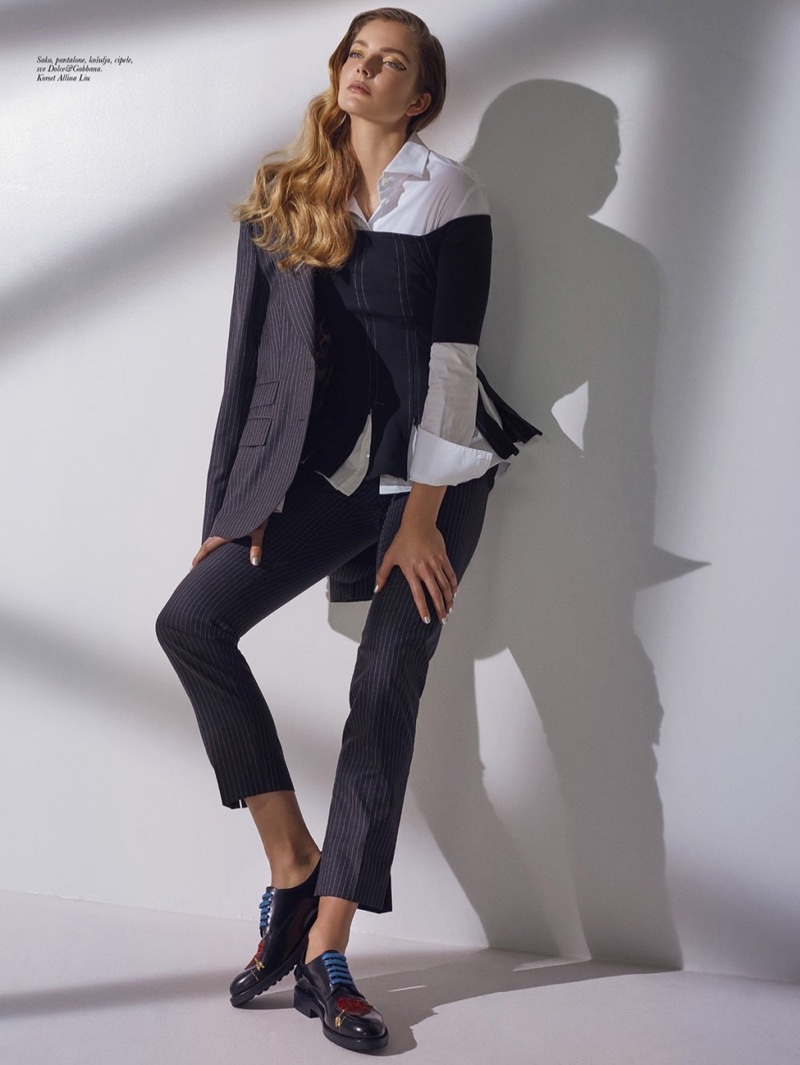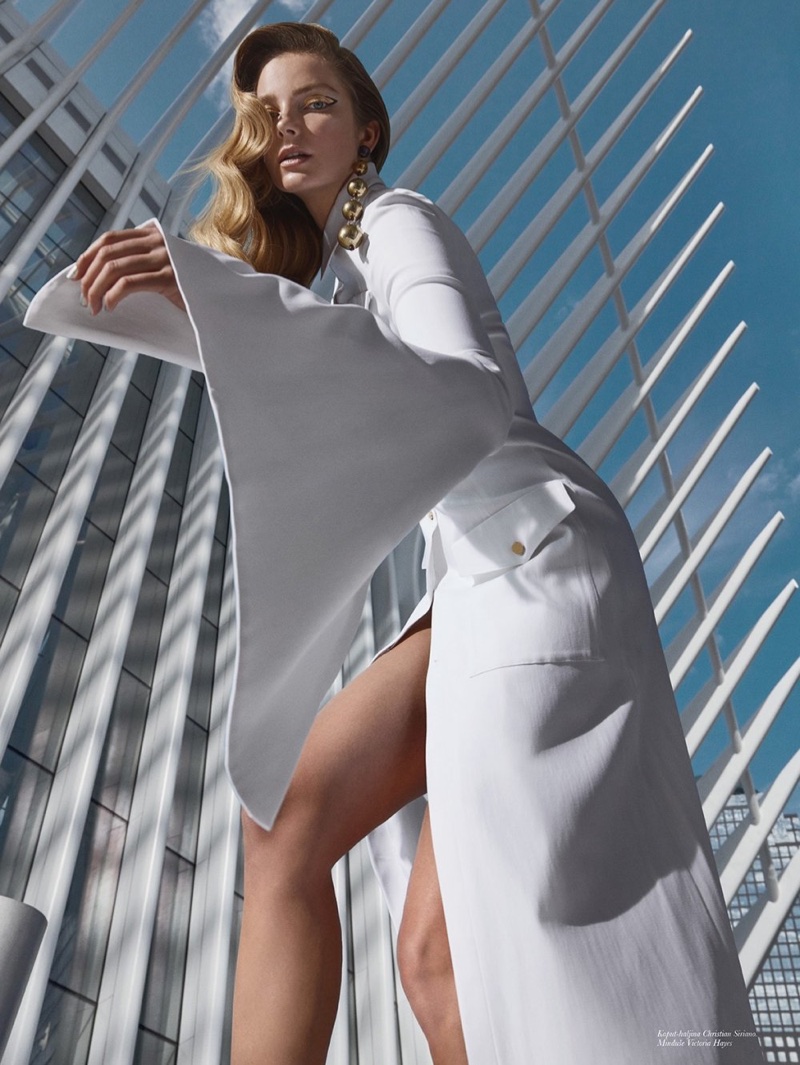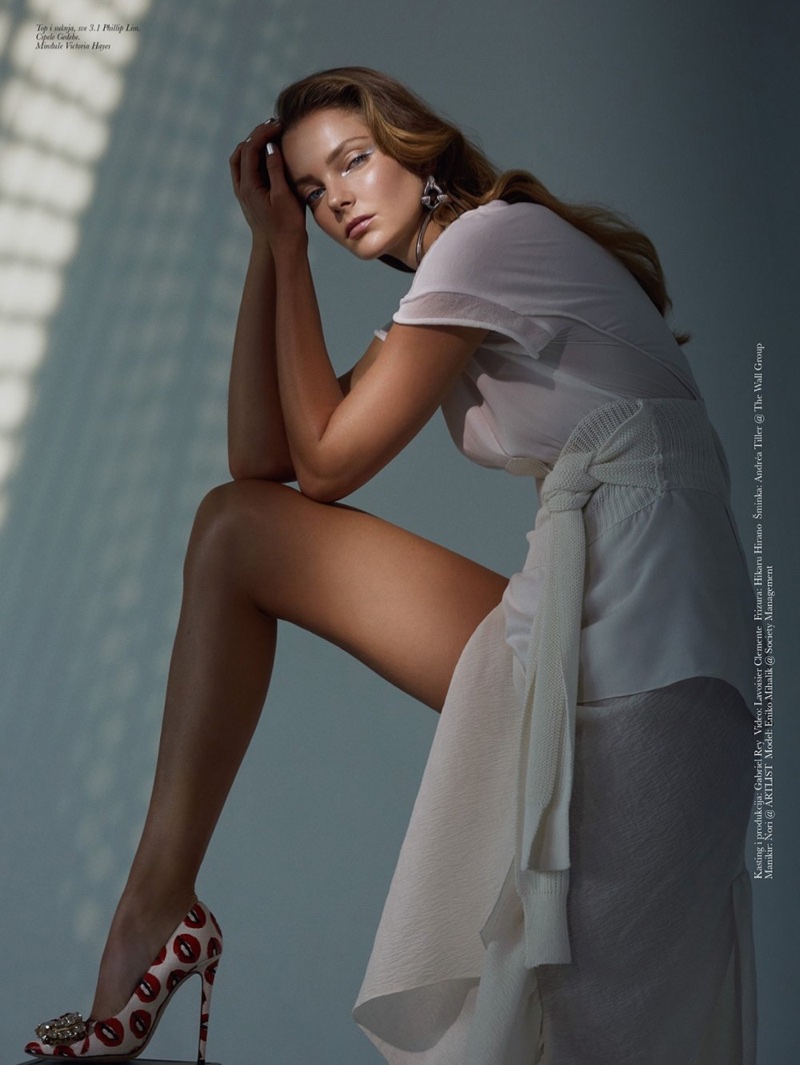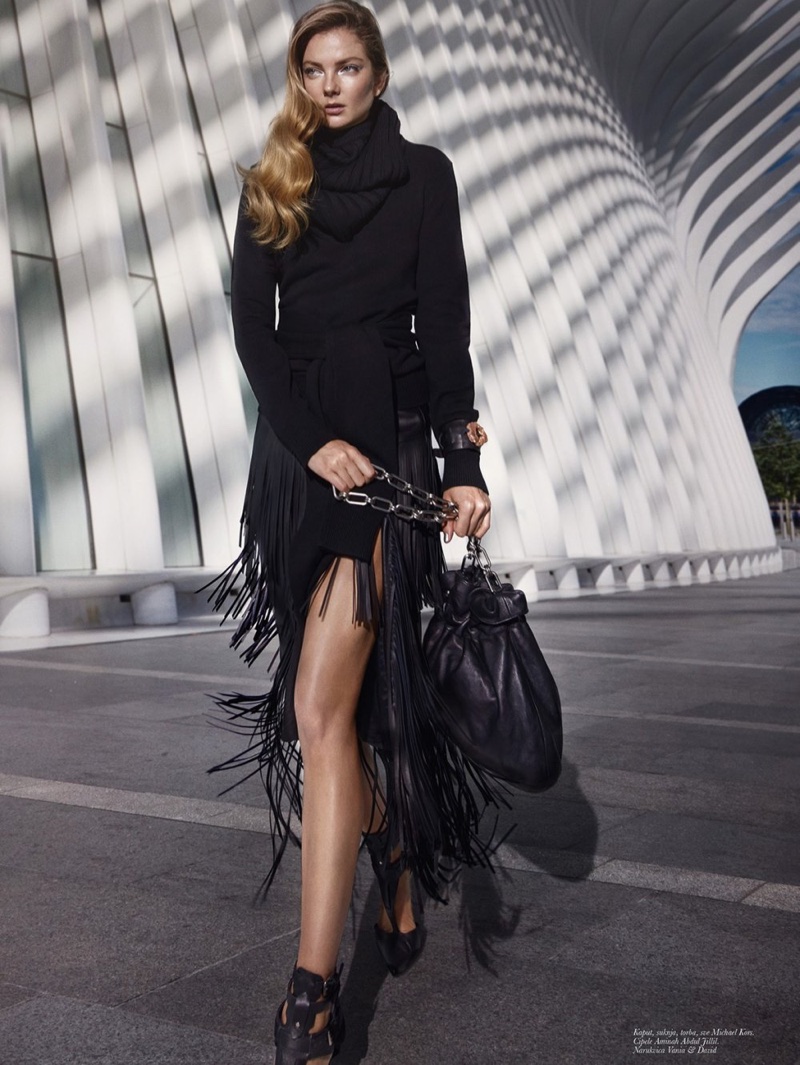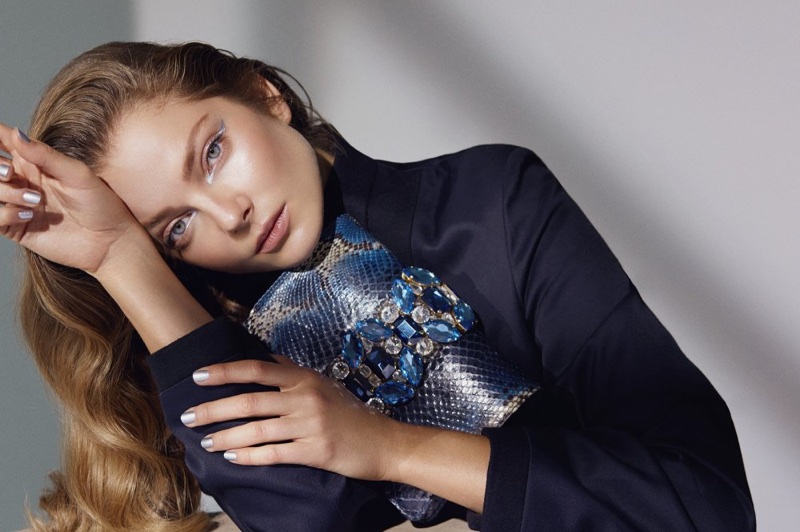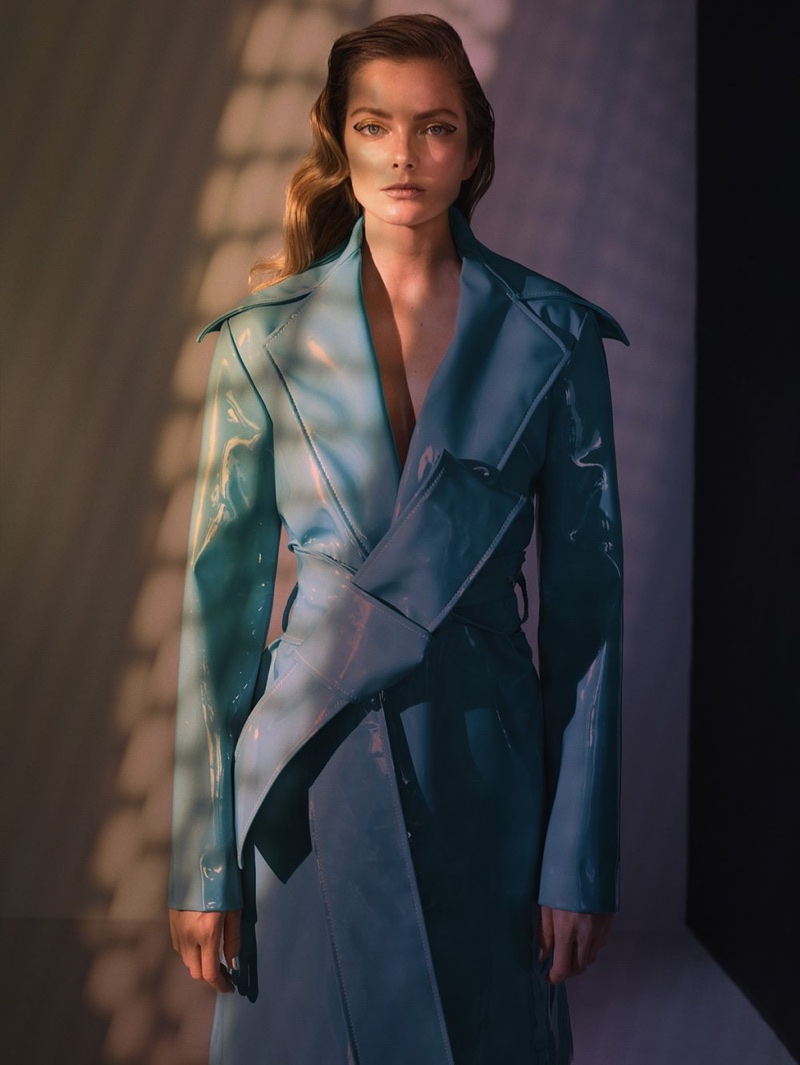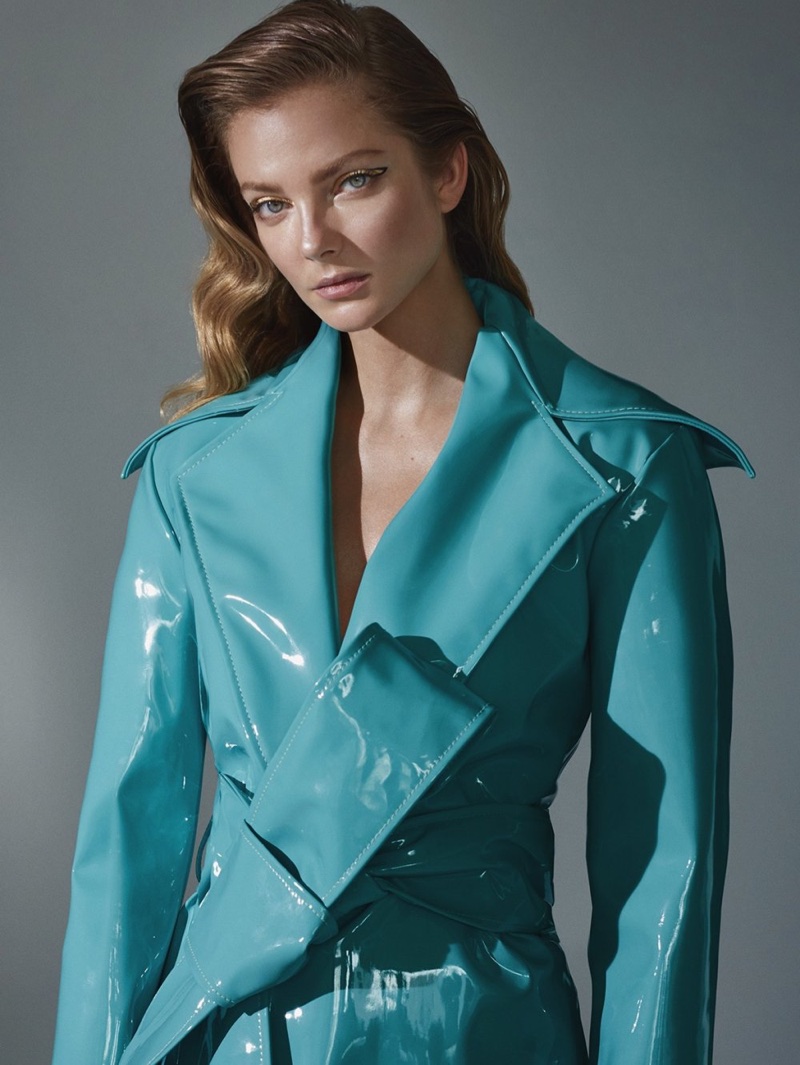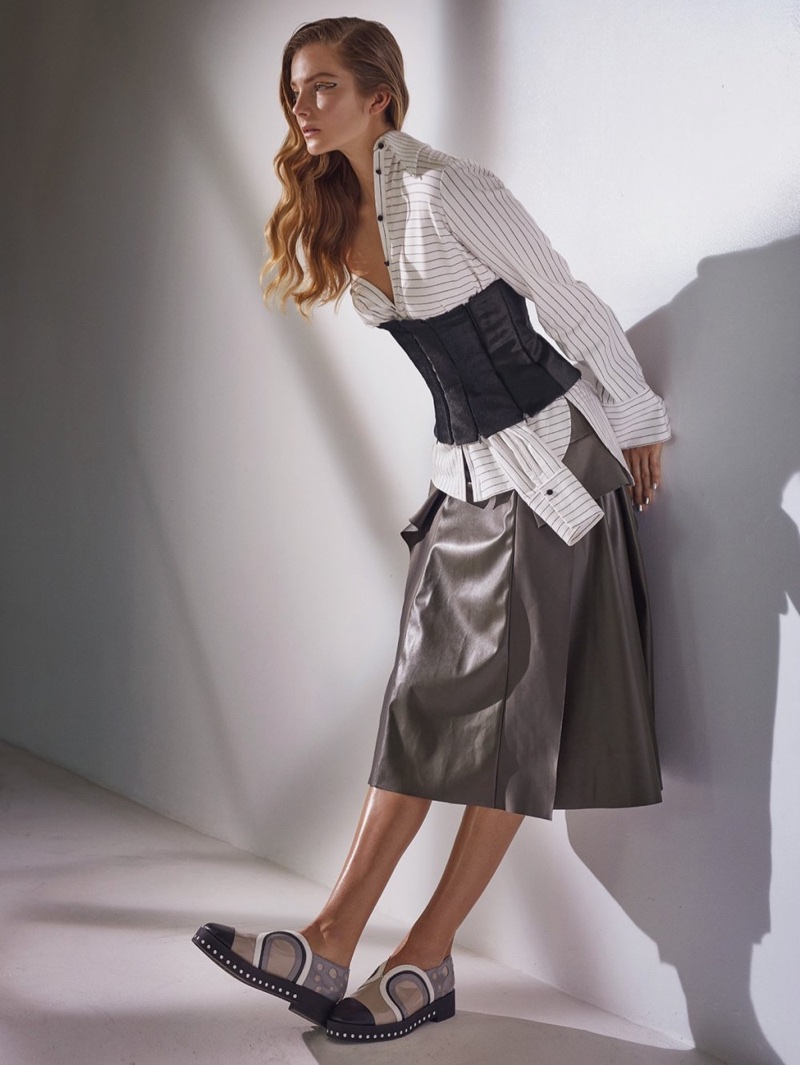 comnum(0) tbcount(0) tbcount(16)
Categories:
Fashion
Luna Bijl and Birgit Kos star in Chloe's fall-winter 2017 campaign
French fashion house Chloe heads to the streets with its fall-winter 2017 campaign. Models Birgit Kos and Luna Bijl star in the on-location shots captured by Charlotte Wales. The pair exude pure Parisian chic posing in breezy blouses, printed dresses and wide-leg pants. Stylist Jane How also spotlights accessories such as sunglasses, Chloe's signature bags and retro inspired footwear. For beauty, James Pecis worked on hair for the shoot with makeup by Aaron de Mey.
CHLOE FALL/WINTER 2017 CAMPAIGN
Birgit Kos and Luna Bijl pose in Chloe's fall-winter 2017 campaign
Chloe Eyewear fall-winter 2017 campaign
Chloe focuses on Parisian girl style for fall-winter 2017 campaign
Charlotte Wales photographs Chloe's fall-winter 2017 campaign
comnum(0) tbcount(0) tbcount(31)
Categories:
Louis Vuitton
Throughout the years, Louis Vuitton has collaborated with various artists for their Men and Women's Collections. From Stephen Sprouse to Yayoi Kusama and the latest, Supreme brand, the different collaborations have all been a success. Check out our top list of Louis Vuitton collaborations.
1. Stephen Sprouse (2001 and 2009)
The first ever collaboration, then Creative Director Marc Jacobs, have chosen Stephen Sprouse for the brand's Spring/Summer 2001 Collection. The iconic Monogram Canvas bags were painted with graffiti of Louis Vuitton Paris. Then again in 2009, to celebrate the life of Sprouse, the brand offered the Monogram Roses and Monogram Graffiti on their leather goods including the Speedy and Neverfull.
2. Takashi Murakami (2003 – 2015)
Japanese artist Takashi Murakami has been a favorite collaborator of Louis Vuitton. It began with the brand's Spring/Summer 2003 Collection. Which paved the way for the success of the Monogram Multicolore, it became one of Louis Vuitton's most-sought after bags. Other collections includes Monogramouflage, Cherry Blossom, and Character Bag. The collaboration ended in 2015, as Louis Vuitton has decided to stop selling the Monogram Multicolore leather goods.
3. Supreme (2017)
The brand's latest collaboration is with American brand Supreme for the Men's Fall/Winter 2017 Collection. We all know how successful the special collection turned out. The signature epi leather gets emblazoned with the Supreme logo, and Monogram pattern were seen in ready-to-wear items including jackets, jeans, belts and small leather goods.
4. Jeff Koons (2017)
The Masters Collection by Jeff Koons was just released last April. Each piece in the collection is a work of art, imagine carrying around a bag with Jeff Koons' reproductions of famous masterpieces. These includes Mona Lisa, Girl with Dog, The Tiger Hunt, Mars, Venus and Cupid and A Wheatfield with Cypresses printed on the brand's iconic handbags such as Neverfull, Speedy and Keepall.
5. Iconoclasts Collection (2014)
Six icons reinterpreted the iconic Monogram Canvas in celebration of the brand's 160th Anniversary. Louis Vuitton has collaborated with Christian Louboutin, Cindy Sherman, Frank Gehry, Karl Lagerfeld, Marc Newson and Rei Kawakubo to present limited edition pieces which features the signature pattern.
6. Yayoi Kusama (2012)
The bold and playful collection, Louis Vuitton collaborated with Japanese artist Yayoi Kusama to feature her signature polka dot pattern. Her trademark design was seen in a mix of Monogram Canvas in the Neverfull and Speedy, as well as the Monogram Vernis Lockit bags.
7. Richard Prince (2008)
For the brand's Spring/Summer 2008 Collection, Marc Jacobs has enlisted American painter and photographer Richard Prince to be a collaborator. The collection includes the Monogram Watercolor which features the Monogram pattern in 17 colors. Another design presents the Monogram Jokes bags, wherein airbrushed Monogram bags comes with printed jokes and karung snakeskin handles.
8. Fragment Design (2017)
Another one from the Men's department is the brand's collaboration with Japanese designer Hiroshi Fujiwara of streetwear brand Fragment Design. The collection was released for Pre-Fall 2017. It features handbags in Monogram Canvas and Monogram Eclipse, as well as ready-to-wear items and small leather goods, inspired by American preppy style.
comnum(0) tbcount(0) tbcount(34)
Categories:
Fashion
Jessica Chastain stars in Piaget Sunlight Journey campaign
Actress Jessica Chastain is back for a new campaign from luxury jeweler Piaget. The stunning redhead turns up the glam factor in dazzling gems and jewels. The collection draws inspiration from the Amalfi Coast including its blue seas and volcanos. Jessica dazzles in colorful gems ranging from purple sapphires, diamonds, black opals and Ceylon sapphire. Posing poolside, the actress impresses in breezy gowns as well as the precious jewelry.
CAMPAIGN: JESSICA CHASTAIN FOR PIAGET SUNLIGHT JOURNEY 2017
Actress Jessica Chastain wears glittering necklace and earrings from Piaget
comnum(0) tbcount(0) tbcount(32)
Categories:
Other Brands
The Hermes Faco Bag hasn't been on the spotlight very much, so you might not have heard a lot about it. This bag is overwhelmingly chic with an envelope-shaped flap. There is a clutch version as well as a shoulder bag edition. The shoulder bag edition is designed with a leather strap and carries like an evening bag with strap. For the Fall Winter 2017 Collection, Hermes introduces the Faco II Bag, which is an updated version.
The Design
The Faco II is a minimalistic and chic handbag – making it perfect for any occasions. The front is crafted with a fold-in flap closure and is made in full leather. This bag has a classic look and can be worn on casual days, for work or even in special occasions. The most beautiful part is that there is no label saying: 'I'm made in Hermes'. But you can tell by the craftsmanship and the impeccable Mysore goatskin leather that it's not an ordinary handbag. The boxy shape is gorgeous too and it comes with a long leather strap for shoulder carry.
The exterior looks very similar to the original Faco Bag but the biggest difference is the feel. Faco I is more flexible, softer, slouchier, Faco II is stiffer and holds better shape.
The interior
The interior design is also slightly different than the original Faco Bag. For example, the top is made with a V form.
The inside of this Faco II Bag is made with one large compartment for all your daily essentials. And there is also a built-in back pocket for those that need to store essentials within hand-grasp.
The Prices And Sizes
Measuring 24 x 20 x 3 (L x H x D) cm, priced at $5500 USD via Hermes boutiques.
Other Styles
comnum(0) tbcount(0) tbcount(31)
Categories:
Fashion
Top model Stella Maxwell graces the September 2017 cover of ELLE Italy. Photographed by David Mushegain, the blonde beautywears a Dolce & Gabbana jacket, top and embroidered pair of jeans. For the accompanying spread, Stella travels to New Orleans for a fabulously fun outing. Stylist Eva Gerladine Fontanelli dresses the New Zealand beauty in designs from the likes of DSquared2, Saint Laurent and Louis Vuitton.
Categories

New Posts

Hot Posts

Tags